Newport First Stop - 100 Years of News Stories
The Author - Derrick Cyril Vaughan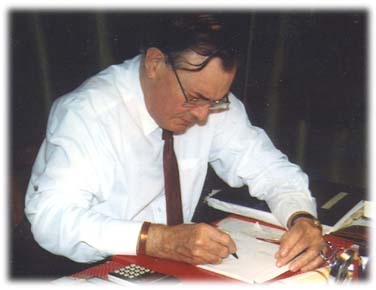 Derrick Cyril Vaughan was born on 19th October 1925 in Newport and educated at Prior Park College in Bath, where he passed the Oxford Local Exam in 1940.
He went on to serve in the Royal Marines before becoming an Accountant.
Derrick spent most of his career years working for the Newport Solicitors, Davis Lloyd & Lyndon Moore.
After retiring, Derrick spent his time researching and writing the book "Newport First Stop" before going on to compile further books on his family history such as "When Irish Eyes Were Weeping", "The Clarkes of Alteryn" and "The Clarkes of Newport" which can be found at most Newport Libraries. During this time, he also wrote columns for the South Wales Argus entitled "Down Memory Lane" based on events of Newport past.
Sadly, Derrick passed away on 15th January 1995 at the age of 69 years, without seeing the results of his years of dedication and hard work being made available here for all who are interested in Newport history.
If you would like any more information about the book "Newport First Stop"
or have any enquiries about copyright, email Chris Vaughan.