The Artist Who Worked In Iron
By Mike Buckingham and Richard Frame
First published 1988
One fine summer's day buy yourself a pint at the Riverside pub in Newport's Clarence Place and take it outside where you can overlook the town and the River Usk.
The castle will probably catch your attention first but it will not hold it for long: for some reason the town never seems to have bothered overmuch with this untidy ruin, even though it has one of the very few water gates in Britain (Traitors' Gate at the Tower of London is, of course, the most famous).
Your attention is much more likely to be caught by the river and by the fine road bridge which spans it. Newport Bridge is a copy of the old London Bridge, long since dismantled and sold to the Americans, who for some reason best known to themselves have put it in the middle of a desert and encouraged an artificial river to flow underneath.
The wrought ironwork which will be the most obvious feature from your vantage point was cast in Newport by W.A. Baker, whose ironworks were situated opposite the Westgate Hotel in central Newport.
Mr Baker's grave is right behind the cemetery lodge along with the most prestigious memorials. And little wonder, for Mr Baker was the ironfounder responsible for endowing Newport with much of its Victorian architectural embellishment: a man who could make even such a humble and apparently clumsy material as iron describe graceful and elegant forms.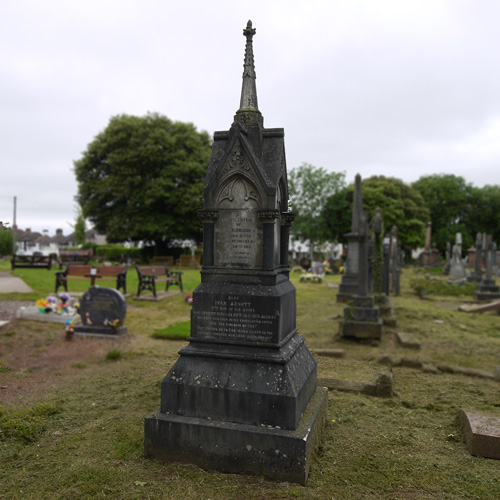 William Alfred Baker's grave
Location: SEC 1 FC
Look down at an old manhole cover almost anywhere in or near the centre of Newport and you are likely to see the name W.A. Baker cast upon it. Look above street level at the many fine surviving Victorian rooflines and you will see elegantly wrought finials and railings.
Scores of old gaslamps which have been converted to electricity bear the name along with decorative guttering and downpipes throughout the town.
A splendid example of Mr Baker's gatework can be seen at Stelvio House on Bassaleg Road, opposite the cemetery. If you visit Tredegar House on the outskirts of Newport going towards Cardiff, and we ernestly recommend you to do so, you will see some fine iron gates fashioned at Baker's works and bearing his stamp. Mr Baker was as prolific with his work as he was egalitarian: there are many beautifully cast gates for ordinary homes in Newport which are also his handiwork.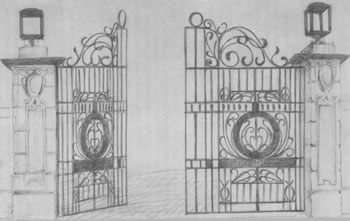 Baker's Stelio House Gates
drawing by David Pow
The fame of W.A. Baker goes further abroad than Newport. A brochure entitled "Progress and Commerce in Newport" published in 1893 record Baker's ironwork as providing the columns for the Victoria Arcade at Swansea, the ironwork for the internal work of the Albert Hall in Swansea, the verandah of the Great Western Railway Station in Cardiff, and "Everything for the Park Hall in Cardiff, the finest hall in Wales."
Ironworking migrated down to Newport from the Heads of the Valleys where the essential raw materials were to be found; timber for the fuel, iron ore for the smelting, lime for the flux and fast flowing mountain streams as a source of energy to turn forging hammers.
As the industrial revolution advanced it became much more economic to move the raw materials by rail to much larger factories by the coast, thus making export simpler.
It is often said that we sometimes fail to see things that are right under our noses, and much of this architectural richness would have gone unrecorded were it not for the efforts of Robin Williams, chairman of the Oxford House Industrial Archeological Society, based at Risca.
For many years Robin, whose own charming home in the centre of Newport sports cast iron columns, has been researching the use of cast iron in Newport and locating fine examples. It was a delight for us, upon Robin's advice, to range around Newport admiring this fine work. Robin lectures on the subject of ironwork and has communicated to hundreds his enthusiasm for the subject and his love of the town.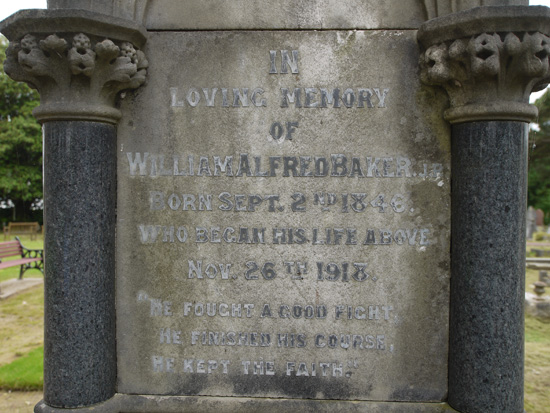 William Alfred Baker Born September 2nd 1846
Who began his life above
Died November 26th 1918
Location: SEC 1FC 73
It is perhaps a little odd that W.A. Baker's memorial is simple and of stone.
Could it be that this man who did so much to bring architectural exuberance to our town prefers that is should always be associated with life, enthusiasm, gaiety and things which are of use to the living?