A Printer's Partner
By Mike Buckingham and Richard Frame
First published 1988
The radical John Frost, leader of the Chartist uprising in 1839, in which over 20 people were shot dead is still spoken about in the town. The name of the town's main square remembers him, as does a column in the South Wales Argus, the evening newspaper which covers all of Gwent.
In the 18th and 19th centuries a radical's most trusted ally was his printer who published pamphlets and broadsheets often in defiance of the law. In his early days John Frost used Samuel Etheridge, a master printer of High Street, Newport, but later commissioned work from John Partidge, who along with John Frost was arrested at his home in Newport's Pentonville on the evening of the doomed Chartist uprising.
Partridge died a poor man in 1844 aged 49 and is buried at St Woolos Cathedral. John Frost is buried at Horfield Parish Church, Bristol. But Leah Partridge, the wife of the printer who bore him many children and who died in 1868 is buried at the cemetery providing one of the many links between it and that turbulent year of 1839.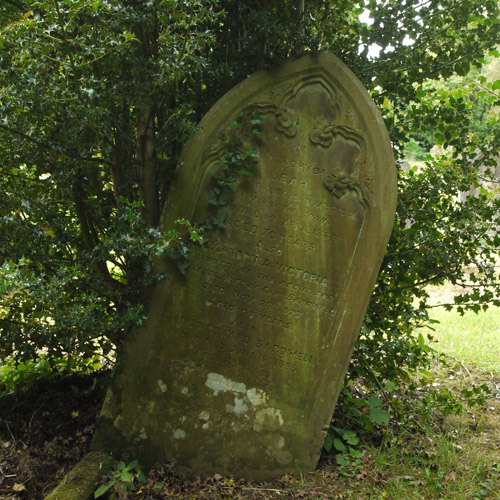 The headstone on Leah Partridge's grave
shelters from the elements under a holly bush.


In memory of Leah widow of the late John Partridge printer of this town who died 19th April 1868 aged 70 years. Also Alexandria Victoria daughter of the above and beloved wife of Capt. Bardwell died November 28th 1877 aged 40 years. Also James Edward Bardwell who died June 16th 1896 aged 69 years.