Strange Spirits At Tredegar House
An article about some of the mysteries which seem to abound at Tredegar House. A large, Council-owned, country estate on the outskirts of the City. This was written at the time a séance was held there just before the 1988 Eisteddfod.
By Jim Dyer
First published in the Western Mail 1987
© Jim Dyer 2012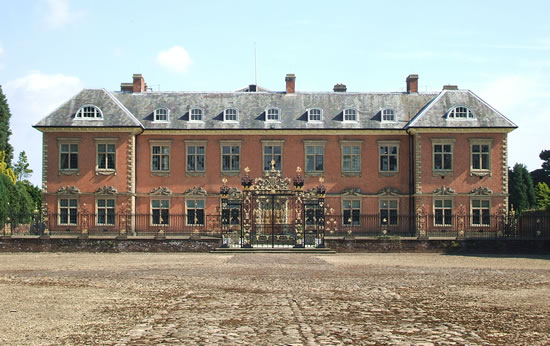 Bells ringing at odd times, ghostly spectral nuns and strange atmospheres. All reported incidents at one of South Wales's most popular tourist attractions, which could turn out to be one of Britain's most haunted places.
Every year thousands of families flock to Newport's Tredegar House with its spacious tree-lined avenues, only a stones throw from the busy M4 Motorway. Most are unaware that this magnificent mansion includes a history of witchcraft and the macabre. Some of the rumours which have built-up over the years can probably be dismissed as mere speculation but more recent events certainly give food for thought.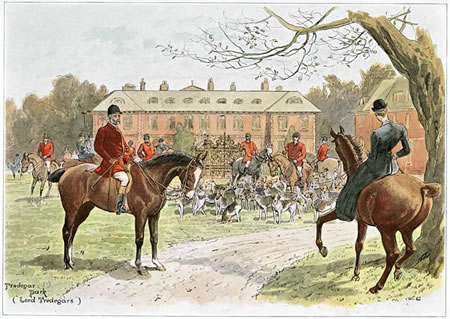 Tredegar House was for centuries the home of the wealthy Morgan family, and is now owned by Newport Council (see notes at end). Visitors from all over the world went to the Eisteddfod here in 1988, but did the mystical circle of 13 Gorsedd Stones, a number with dark import, attract other less welcome visitors?
The House has an intriguing past and, though subsequently altered and re-modelled, can be traced back to the 1400s, through civil war, rebellion and riots. The estate was vast and tradesmen, farm labourers and servants of all description were needed to maintain the good life. Godfrey Morgan, who had survived the Charge of the Light Brigade, became Viscount Tredegar in 1909 and was a generous benefactor of the town donating much of his land to public use. He was succeeded in 1913 by his nephew, Courtney, and when he died in 1934 his son, the eccentric Evan, took residence and from then on what quiet life there had been disappeared.
Witchcraft Parties
A few years back Prince Charles and Lady Diana made a brief visit to the House but this was small beer compared with the lavish entertaining that Evan enjoyed so much. The famous mixed with the unknown and many society figures of the 'twenties and 'thirties were regular guests. These included H G Wells, Godfrey Winn, Prince Paul of Greece and Lady Cunard. He kept a strange menagerie too which enhanced his notoriety.
Evan became known as a 'dabbler' in witchcraft and it is said by many a visitor to the House that some rooms are very cold. The Brown Room, which was used on special occasions, and Evan's bedroom, the King's Room, was no doubt where he indulged his bizarre interest.
Rumours still abound in the town and one former servant reported seeing him 'dressing up in peculiar clothes.' The Duke of Bedford, after attending a party there, noted that Lord Tredegar was a ' very odd man much interested in the supernatural.' He too found himself shivering in that room where Lord Tredegar donned cannibalistic garb, told fortunes and where an Arctic Owl flew freely.
Maybe then, it's not without significance that one of his frequent visitors was the well-known purveyor of black magic and referred to in books of Dennis Wheatley, Aleister Crowley. He gained fame for his satanic activities and is said to be the last person to attempt to incarnate Old Nick, the Devil himself. Strange or just pure coincidence?
Evan was the last Morgan to live in the House and in1951 it became a Catholic girls' boarding school under the auspices of the Sisters of St Joseph. This in itself built up a whole new set of ghost stories and eventually the council bought the House in 1974 for the pleasure of the people of the town. Indeed it proved to be a popular acquisition but the tales of spectres and spirits persisted.
Ringing Bells
Over the years there have been numerous reports of sightings. These have ranged from first-hand witness accounts of parades of nuns marching through what is now the inner courtyard of The Brewhouse, to singular, ghostly figures sitting serenely in the outdoor Sunken Garden. A cleaner in the big house is reported as regularly having seen a grey-clad nun at the top of the stairs.
Only a short time ago a brave group of lads stayed the night in the Big House but would not now like to repeat the experience. Old houses are prone to creaks and strange noises and there can be no doubt that Tredegar House has its fair share.
David Freeman, the curator, and his assistant Steve Sully, have an unrivalled love for the House but they retain an open mind. Mr Freeman said, 'There are odd noises but you get used to them. There have also been some unexplained footsteps, lights on without cause and once the front doors were bolted – we could hear them clearly, and then quickly they were released.'
The Morgans had an elaborate system of bells to call the staff below stairs, some 20 or so connecting every room to what is aptly called the Bell's Passage. These have been heard to sound at the most inconvenient times but it could be climatic conditions or the weather. Another old legend is that on any Friday the 13th a particular carpet is stained blood red, but leaves no visible trace later.
The main entrance to the Mansion is loyally guarded by a pair of stone lions and this impressive stone stairway brings a cold shiver to those susceptible. Certainly, the outside is attractive but stark at the best of times.
One man familiar with the area told me, 'Whenever I walk past I get the feeling someone is watching me. It's overpowering and my eyes are drawn up to one third floor window, but I see nothing.' This was the servants' sleeping quarters in days gone by and strange things can happen below as well as above stairs.
Even Evan Morgan. Lord Tredegar, yacht owner and eccentric may have unwittingly, in a youthful pampered way, been the catalyst for later, unacknowledged happenings.
Ghostly Outbuildings
The huge Tredegar estate still encompasses many acres and when the council embarked upon a nearby 1000 house development they had to provide some shops and facilities. What better way than convert some of the outbuildings of Tredegar House to provide a community centre and focal point for the new residents?
In the mid-70s apples and oranges were seen to be thrown in the air in the then recently opened supermarket which alarmed two elderly passers-by in the evening – long after the tills had closed down.
When the business closed the premises became a social centre, the old façade retained with modern interior, a boon for the community and the best that could be done given tough financial parameters. If it ended there it would be fine: people would enjoy the House and the grounds and fishing in the lake.
Early in 1986 there was an odd twist and no longer could the hitherto tales of ghosts and spectres be taken lightly. The outbuildings are numerous and large, the social centre being one. Inside it is spacious and enjoys all the modern facilities, a grand little meeting place.
The same person who felt the power of the lions immediately realised there was another presence there. Maybe he was a catalyst without realising. The social centre was once a barn, now converted to two storeys, and it was upstairs that the coldness pervaded despite the more than adequate central heating.
In the past year or so there have been some strange happenings there, not immediately obvious but which collectively make a fascinating catalogue.
Electric lights have been switched on and off at odd times, doors locked and unlocked, unexplained footsteps noticed. Furniture moved, wires cut, plugs pulled out and cold draughts. Fortunately, the spirits seemed more playful than dangerous but things came to a head when some staff were locked into a room.
A séance revealed there were two souls there; Capp, a 69 year old stickman and Tradrapp, a 41 year old labourer. Both were employed on the estate and as far they were concerned were still working there though they had died in a barn fire in 1856, allegedly by a foul deed. Records show there was a fire there in the 1800's. Things quietened down for a while and indeed some sort of respectful relationship developed. But at in the course of time a new, evil presence was detected – a spirit which even scared Capp and Tradrapp, who decided at once to leave.
They said that witchcraft was still being carried out in the main house by at least 12 ghosts led by the malevolent Montcrese, a Frenchman. Contact was made with him but proved extremely harrowing. He was anxious, he said, that a séance be held in the house and was very argumentative. The impression given was of a pointed featured, black-haired man, dressed in black cloak of the 'twenties style, but no age was given.
From time to time Montcrese makes his presence felt and the activities in the House confirmed by another spirit. A young girl of about 19 who died of an illness in 1726 known only as Waif. She described the parties being held on the third floor, above the stone lions, and her words corroborated by yet another woman from 1234 known as Jullye, who reiterated Montcrese's desire for a séance in the main house.
Meanwhile a further apparition has been detected in the outbuilding and this time accompanied by the pleasant scent of fuchsia. Under the expert guidance of a well-known local medium, a young boy named Roderick has been identified, He offered no harm but died in a fall from the same building while working in the barn.
This old, huge mansion is steeped in magical connections and it is not inconceivable that there are a few more secrets yet to be revealed. Mere speculation or is there perhaps a grain of truth in these stories? It is for the reader to decide whether the palatial Tredegar House and Country Park is one of the most haunted houses in Great Britain – second only perhaps to the ill-famed Borley Rectory in Essex.
Jim Dyer 6th January 2012
NOTES
First published in Western Mail on December 31st 1987
By 2012 the area surrounding Tredegar House has been extensively developed for housing and the running of the property has been handed to the National Trust though still owned by the Council.