Pillgwenlly
Learning At Primary School
Tredegar Wharf and Alexandra Junior Schools in the 'fifties.
By Jim Dyer
© Jim Dyer 2012
Playground on the Roof
Institutions of the 'fifties were definitely created on the Tom Brown's School-days model. Schools were the same as the old workhouse, so many thought, and indeed it may have been. Before the dreaded Belle Vue or Father Hill's it was the primary Pill academies to survive – Tredegar Wharf, with it's top-of-the-roof playground, for the infants and followed by the ancient Alexandra Junior at the bottom of Pottery Terrace.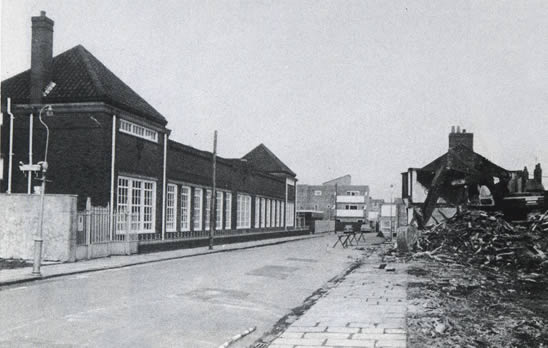 Tredegar Wharf School
At the age of five, the time came to start being educated. I was dragged across the 'Iron Bridge', engulfed in steam engine smoke, by mum amongst other ladies doing the same with their offspring, Like others at the entrance to this funny school, in William Street, I was pushed through the swing doors of Tredegar Wharf to be met by Miss Chester, the dour teacher in her tartan skirt, who would be our form mistress.
This, of course was to be a meeting point for children from all over Pill, to learn to fight their own battles, to write and read, and to experience new social intercourse with other kids from beyond the safe Arthur Street circle.
I can remember little of these times, except when I peed myself in class because she wouldn't let me go to the lavatory. I ran home crying to Mam who indignantly returned with me to give poor Miss Chester a proper dressing down. One anti-hero occasion little Crocker from Robert Street got a crayon stuck up his nose and had to go to the Royal Gwent Hospital to have it removed, in his dappers and short trousers as well! We loved romping around on the roof penned-in by wire mesh with views across the streets and the Transporter Bridge. The bell rang and we would go trundling down the iron stairs to the classrooms.
The Coronation of Queen Elizabeth caused great excitement and the school was daubed in children's pathetic sketches of Her Majesty and Union flags along the windows facing the street. When the great day arrived each of us was given a mug with the royal insignia and pictures of Prince Philip and the Queen. Some months later they came to Newport, for what I can't recall, but loyally we paraded along the tree-lined Cardiff Road waving our flags, but all I saw was the black, shiny limousine passing-by swiftly with a retinue of police cars and motorbikes.
It was also a momentous time when Father Christmas dropped-in from a helicopter and gave us all presents, neatly wrapped in silver paper. Kids scoffed sweets and pulled crackers before many were sick over the desks.
Easters and winters came and went but there was nothing more pleasurable than those long school holidays to play in the freshly laid tar on the streets or to knock a few balls against the railway fences, guarding us from the endless steam engines shunting back and fourth along the tracks abutting Courtybella Terrace.
After a few years of what was, on reflection, idyllic, the next hurdle was the big-boys junior school which wasn't so good: there were dangers.
Alex
Alexandra Junior School had a fine reputation for producing fine athletes, baseball and rugby players. Now long demolished it was an impressive, imposing, grey building opposite the Gunners Club, a stone arch entrance leading to the playground and outside toilets. To the left was the main hall and the headmaster's office, to the right a terrace of classrooms lined by a cloakroom with wooden benches and green hooks for hanging the coats.
The dangers occurred mainly outside on the school run. The bullies from Belle Vue Secondary had a nasty habit of picking on the most vulnerable of us as we tried to sneak down or up pottery Terrace to avoid them. Everyday was a nightmare for us. Sometimes dodging into Matthews the baker's or Sofokalis the greasy Greek chip shop. Most times though there was no escape for Maca, Crocker and me and we were regularly pounced on and pinned to the pavement. Not even Betty Talbot, at the end of Lime Street, could save us. The bullying swine have left a big mark on many Pill boys.
There were, of course. Bullies in the school too – far too many to recount but we survived.
Here I encountered some teachers who really did care, in this bottom-of-the-town area. Miss Percell was a Petula Clark, sweet lady and Mr Matheson, a tall well-spoken man who used to take us for football. The gowned Mr Morgan was the headmaster, a chubby man with a moustache. Proudly I played for the football team and loved taking my red and white jersey and black shorts home on a Friday afternoon, ready for the Saturday morning matches. As there were no pitches at the school these were generally played at Coronation or Tredegar Parks unless it was an away game across the River Usk.
It was at Alex that I weaved my Hercules New Yorker through a line of cones to pass my cycling test. But it was the annual medical examinations I hated. Play was rougher here and girls began to figure in the scheme of things, highlighted at the Price Street Methodist Church Youth Club.
At Christmas it was pantomime time and I recall Pinnochio, strung-up as a puppet with elastic bands. There was always something happening at Alex but it was the walks from home we dreaded. If we could arrive at school on time after calling at Matthews for a stale, halfpenny cob, we waited for the ink monitor to come round and later for the milk, or at one time, milk tablets.
Then came the trials of the Eleven-Plus exam. For weeks before we practised with old papers trying to work out which way this or that fitted or which word followed next in a sequence. Glued to the graffiti etched desks we struggled for the allotted time until putting our pencils down. I failed, to everyone's disbelief, and that only meant one thing – the notorious Belle Vue Secondary School!
This stark, grey building in our street resembled Wormwood Scrubs on the corner of Arthur Street and Mendalgief Road, enveloped by green-painted spikes. Its reputation was formidable stretching back decades when it was named Spring Gardens catering for the labouring classes, it mass-produced woodworkers and metalworkers. Algebra was never heard of there and science was basic. Baseball and rugby were the staple diet and the teachers fearsome. Some of the antics which went on there were world-renowned!
At the delicate age of eleven, national health spectacles as well, I was doomed for Belle Vue at the very bottom of my street.
Jim Dyer – 25th January 2012