Pillgwenlly
- Angels and Sinners -
A few memories of Pillgwenlly in the early 'sixties.
By Jim Dyer
© Jim Dyer 2012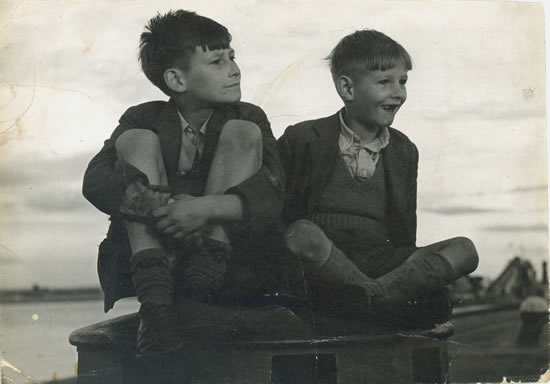 Jim Dyer and his brother 'Teddy' down the docks
'Nobody had much in them days' – an expression often heard about the City from ex-Pillites, ex-pats of that unique and mystifying area between Cardiff Road and the Dock Gates – Pill.
I was brought up in Arthur Street, at the top end between the railway lines to the Docks and Whitehead Iron and Steel Works, with the grey and ominous looking Belle Vue School perched at the end of it. It was one of many terraced ranks of streets and our playground for adventure during childhood. Combined with Belle Vue Park and the Mendalgief Road Rec, the various street gangs would meet for battles, hurling sticks and stones at each other, unless the two alpha males decided to meet for head-to-head combat. Our mortal enemies were the Robert Street gang and evening ambushes were frequent with screams of derision and baiting war chants.
Arthur Street itself was riddled with 'rich' characters with old Mrs Hammett's shop conveniently located midway, with its wrinkled, brown, wooden counter in the front room where you could buy Tizer pop or bubble-gum with pictures of famous heroes and celebrities. Entering by the dark passage you noticed a welcoming fire smoking in the back kitchen surrounded by the black cast-iron grate. Oxo crisps were often surreptitiously acquired when the old gal, regaled in her flower-patterned pinafore, turned her back, bent down exposing her stockings and garters which always brought a giggle or two. A more modern shop, Rene Price's, was around the corner in Courtyard Road, and was much used by the locals for the kids to have a proper bath – it had one!
At Christmas time, when it snowed, there were always at least four huge snowmen piled in the street, usually with Rupert Bear, checked, yellow scarves, and the kids milled around pelting snowballs, whilst others messed about with their new cowboy outfits, Dinky toys or bikes.
Bonfire Night too was a pure delight – at least two in the street, as the older children played 'Across the Sea to Ireland' others knocked about with rugby balls. There was no need for the lamp man that evening, on his bike and clutching his pole, maybe Nochiavelli would turn-up on his ice-cream bike and cool box shouting 'Issa creema'. When the last roast potato had been removed from the ashes of the fire, and the last banger boomed, the fun was suddenly and sadly stopped by the local fire brigade clang-clanging down the road.
And of course, there was the the hugely longed-for Whitsun Trip to Barry Island. The old Leyland buses pulled into the street as hoards of screeching kids, clutching their cossies and sandwiches, roared with repressed excitement. Harassed mothers cackled and gossiped, arguing about who was going on which bus and what songs to sing. The children too argued about who was sitting in the back seat, with occasional skirmishes breaking out. Usually it was Rita Postains or 'Tomboy' Pattie Wallis who would get lost on the beach – Barry Patey, in his posing leopard-design trunks followed soon after. On the beach groups would form in a circle. The women knitting or sorting-out sand-encrusted cakes. The few men who came were either in the pub or sitting clutching flagons of Ansell's from the 'Royal Oak'.. Very tired and exhausted, the tunes rang out with 'Here we are again, happy as can be....' , the first to be serenaded.
Another source of excitement was when someone (usually a woman!) was having a baby. No doctors then, maybe a midwife, but generally the other women would gather to help. Slightly less exciting was a circumcision, that gladly I can't recall, by Dr Buckley in the front room!
Our house was a veritable Aladdin's cave, where Nana Fisher ruled the back-kitchen while, we shared two rooms and two bedrooms. There was generally a lodger as well. A big, rambling four bedroomed house, shabbily decorated. No bathroom, outside toilet with wooden seat and no light. There was a coal bunker under the stairs, next to Dad's store of tools and army paraphernalia. Another bunker was in the back-kitchen next to the grey-blue speckled gas cooker, but no-one then worried about hygiene then.
The kitchen 'range' was there and enamel sink, served by lead pipes and no hot water until we installed a gas geyser. The big copper boiler, used for boiling sheets and plucking chickens, was next to the window and back-door which we used to pretend was the cab of a steam locomotive,
Outside, the yard was strewn with junk of all kinds ; tin army cupboards, plastic sheets, car parts, rusting line posts and gardening equipment. The yard sloped inwards to an outside water tap and drain which we blocked at times to let the duck have a swim. This strangely disappeared one Christmas to a farm, so we were told, but that year we did not see Dad carry-out his annual chicken-kill with his Swiss Army knife nor did the festive poultry taste like chicken!
Nana's room next to the kitchen was always warm, a place of haven. This was where we listened to Archie Andrew's or Uncle Mac on the Reddifusion wireless and had our breakfast. Across from the green linoleum clothed table was a cupboard with shelves stocked with tins, smoked ham, cakes and all sorts of objects like sewing thread, and old gas mask, a Japanese doctor's bag which Dad brought back from Burma, a white colonial hat from an uncle at sea, biscuit tins of all colours and sizes. It was a good hiding place too when playing jumping from the top of the stairs or football, kitted in Arsenal strip in the wide passage.
My brother and Mam and Dad had the middle room, with its black iron fire range, and a dull brown acrylic sofa. Wallpaper was a dull and we discovered about twenty layers on top of each other, together with one layer nailed on by Uncle Billy due to a lack of paste in the 'thirties.
Like other families. We never locked the front door. So that was our environ in the early 'sixties, God bless it, full of characters and adventures.
But at eleven the dreaded secondary school called.
Jim Dyer - 24th Jhanuary 2012