Newport's Connection With
The Sinking of the Lusitania
By Jim Dyer and Dave Lewis
First published in the Western Mail 1986
© Jim Dyer and Dave Lewis 2012
This short article is about Newport's connection with a South Wales coal magnate who was aboard the Cunard liner ss Lusitania on its last fateful voyage in May 1915.
Tucked away in a quiet corner of the church in Llanwern Parish, on the rural outskirts of Newport, is the tomb of the Thomas family, a dynasty which made a fortune out of the coal boom of the 1880s.
David Alfred Thomas was a wealthy and eminent South Wales mine owner with a shrewd head for business who became a notable Liberal politician in the Lloyd George government. Later he became Viscount Rhondda of Lanwern.
Travelling the world he met the famous, touching many adventures. But his most famous experience would be aboard the world acclaimed Cunard luxury liner ss Lusitania in 1915.
In May of that year his wife Sybil was eagerly awaiting the return of her husband and her daughter Margaret. Awaiting them was the great, ivy-strewn mansion appropriately named Llanwern. David had reached the pinnacle of his career and had gone to America on business.
In 1913, a record year for the South Wales coalfields, some 59 million tons had been mined, of which 70% was exported. Over a quarter million men worked the coalfield, an eighth of Welsh working population. The same year he formed Consolidated Cambrian. Cardiff and Newport were two of the greatest coal exporting ports.
'DA as he was affectionately known, had successes throughout South Wales which led him to develop interests across the Atlantic; in Pennsylvania launching a new barge service on the Mississippi and planning railroad extensions in Canada.
His strong-willed daughter, Margaret Haig Mackworth, had arrived in New York three weeks earlier. A handsome woman in her thirties she had married a close neighbour Sir Humphrey Mackworth, a military man, with a passion for fox-hunting being master of Llangibby Hounds.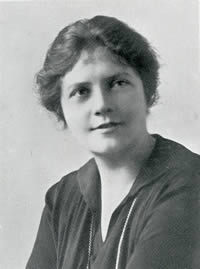 Margaret Haig Mackworth - Viscountess Rhondda
She had ideas of her own however and not content with running a large household became a forceful advocate of women's rights. She brought Sylvia Pankhurst to her first meeting in Newport and was later arrested and imprisoned for her part in burning post office mail being jailed for three months at Usk Gaol. [For more about Margaret Haig Mackworth follow this link]
U-Boat Threat
As the Lusitania prepared to leave, the New York Herald carried an ominous menacing notice issued by the German Embassy. It warned about the threat of attack given that they were at war with Great Britain.
A few cancelled their voyage or transferred to a neutral liner. Most however were satisfied with the magnificent sight of the great ship docked at Pier 54. With secretary Arnold Rhys-Evans, father and daughter boarded.
Confidence in the Cunard Line was enhanced by the Lusitania's reputation of eight years of transatlantic crossings. It was called a floating palace and three times winner of the coveted Blue Ribband and could easily outpace any U-boat. The ship steamed out of the wide Hudson River carrying 1,959 passengers including 440 women and 129 children. They enjoyed lavish luxury aboard in the spacious accommodation and the numerous decks for different passenger classes. Decor was superb and there was little time to be bored.
There were 800 officers and crew of which below in the stokehold 212 firemen and trimmers were needed to stoke 19 furnaces in 25 boilers to raise steam to drive the quadruple screw propellers at 76,000 shaft horsepower (26 knots).
Sixty pound slice bars called 'devils' broke-up the white hot coals to sustain maximum burning draught and each fireman and trimmer shovelled several tons of coal each watch. Every voyage 6,000 tons of coal plus reserves were needed but for economy reasons this voyage six boilers had been shut down reducing speed to 21 knots.
Day of Attack
On 7th May the Lusitania had already entered the war zone and Captain Turner was radioed about the U-boat activity. Speed was by now reduced to 18 knots ship set on a relatively straight course though extra lookouts had been posted.
The German U-boat U20 had a successful weeks patrol sinking a sailing boat and three ships and was thirsty for more kills. Off the Old Head of Kinsale, Ireland, she spotted the Lusitaniasome 13 miles away; submerged it headed full speed to intercept.
DA and Margaret had just left the dining saloon when the torpedo struck amidships with devastating effect, the liner listing badly to starboard. A second hit caused an explosion in one of the boiler rooms below.
Power failed plunging the hallway into darkness and trapping people in the immobilised lifts. DA groped his way onto the deck to look for his daughter amongst the throng of panicking passengers but failed. Retrieving his life-jacket, he went back on deck only to see the last half empty boat being lowered. The deck was level with the murky water and seeing a woman grasping a child hesitating, he helped her jump the few feet to the swaying boat and quickly followed.
Many families were separated and many drowned under the intensity of tons of water pouring through open portholes and the ruptured bulkhead.
He settled down in the boat and was amazed when his secretary warmly shook his hand. They bailed the boat and shared the rowing for the next two and half hours, intermittently picking-up distressed survivors. A rescue steamer landed them at Queenstown where an anxious DA searched for his daughter. Sadly he sent a telegram home - 'Landed safely. Margaret not yet but other boats to come.'
Explosion
Margaret had headed for the portside boat deck and waited for him. The torpedo had not penetrated the boiler room inner bulkhead, but further forward a secondary explosion had blown out the bows destroying the superstructure above. Fire and smoke had reached the bridge deck 110ft above the waterline, and the bow of the 162ft liner began sinking rapidly. The severe starboard list stopped the port lifeboat being lowered and swung the starboard boats out to an alarming angle.
The crew were unable to cope, hampered by dislodged cables and seized tackle blocks. Some occupants were badly injured whilst others were catapulted out into the sea. Many chose to jump overboard desperately clinging to flotsam. Margaret plucked-up courage to do the same as the waters swiftly rose to her feet.
As the steam roared from the ruptured lines the after funnel and counter stern slid beneath the surface. As the liner sank hundreds of people drowned in the relatively warm water clinging to deckchairs and other debris.
On this clear, warm day, the Irish coast only a few miles away Margaret was pulled from the sea unconscious and suffering from exhaustion and exposure. On reaching Queenstown she struggled up the gangway and collapsed into the arms of a jubilant father.
World War
The Lusitania sank within 20 minutes of being hit. 200 bodies were washed-up in Ireland and in total 1,198 people perished including 128 American citizens and 35 of 39 infants. The sinking shocked the world bringing condemnation on Germany and the Americans into the war.
Shortly after returning home DA Thomas was asked by Lloyd George, then Minister of Munitions, to re-cross the Atlantic on government business regarding the supply of arms.
He received his Viscountcy in 1916 and shortly afterwards was appointed Food Controller. This Welsh coal magnate became one of the country's most powerful figures earning the nations gratitude for his services before dying at 62 in 1918.
After he died his daughter Margaret Haig was allowed by special dispensation to succeed her father's title and became Viscountess Rhondda.
Jim Dyer - 27th December 2011
NOTES
1. This was written jointly with Dave Lewis also of Newport.
2. Published in Western Mail in 1986.