Bob Earnshaw BEM
By Jim Dyer
© Jim Dyer 2012
Newport man Bob Earnshaw was awarded the British Empire Medal for his charitable services in 1988.
This was no surprise to the many people who know Bob and his generosity in helping people and his lifetime devotion to the sea scouts. A nice, genuine man. He has also devoted a lot of his efforts to St John's Ambulance and various youth activities as well as sitting on a clutch of committees and being a volunteer helper with the town's Mission to Seamen.
He was the engineer to Newport Harbour Commission for some 16 years before retiring as assistant to the Harbour Master in 1986. Instead of taking a rest he chose to continue, with considerable zeal, his community interests. His largest organisational task is organising the Mayor's annual toy fund.
Sixty-six year old bachelor Bob, of Gaer Park Avenue has a capacity individual style as he shambles around in his blue mac, naval jumper (with epaulettes) and officer's peaked cap, smoking a pipe which seems permanently glued to his lips
Though he has lived in Newport since 1927 he was born in one of the toughest parts of Liverpool. His father and mother moved to Newport to run a family jewellery business in Bridge Street, a trade to which Bob turned after being discharged from the Royal Navy in 1946.
After leaving full-time education a couple of posts then followed in rapid accession: apprentice jobbing jeweller, commercial driver for the Cambrian Warehouse, a job he held until joining the navy in 1940. By this time he was active socially in the town being a member of St Johns Ambulance and the Newport Motor Volunteer Corps. It was some years before this, in 1936, his passion for the sea began to emerge.
The Call of the Sea
'A few of us bought a lifeboat from the SS Doric at Cashmore's for £5 and we converted it for cruising up and down the Bristol Channel' he said. This was commandeered by the Fire Service during the early part of the war, but it didn't stop him volunteering to sail over to Dunkirk to help evacuate the stranded British forces. As it turned out his services were not required, but they had his name and soon he was invited to Cardiff for a medical.
Bob Earnshaw was only at his Lowestoft depot for a few days before being sent as a Petty Officer Engineer to join the motor cruiser Gwenna at Southampton in June 1940. He sailed as rating coxswain for Portland just around the coast with two crew, both landlubbers, in an ill-equipped vessel, and here he was captain at twenty years of age.
He went on to further patrol duties out of Aberdeen aboard the fishing vessel Dunlogie before returning to Poole on the motor yacht Vixen. In early1942 he was heading for New York on the White Star liner, now troopship, Arcadia.
His first minesweeper was the top-secret experimental BYMS 29 with a crew of 36 capable of sweeping for acoustic, magnetic and moored mines at the same time. After gunnery practice in Chesapeake Bay and short stops in Nova Scotia and Newfoundland they sailed with a sister ship for the UK.
He was to serve on two more minesweepers before leaving the navy and was to traverse the great Atlantic again. 'I saw MMS 250 being built from the keel upwards in Nova Scotia. We came back to Plymouth this time on flat-calm water all the way and spent some time sweeping out of that port.'
As Chief Engineer aboard BYMS 2155, he was to participate in the massive D-Day invasion of Europe, sweeping on station off Gold Beach. He recalls 'At dawn the invasion fleet passed by and it was a sight for sore eyes. I remember landing craft belting past us, dead bodies floating about and 14" shells and rockets being fired over our heads from two mighty battleships behind us. I saw the Mulberry Harbours being developed and battered and the RAF dog-fighting overhead.'
Civvies Street
At the end of the war Bob had the choice of staying in the royal navy, but his father was ill. Instead he returned to Newport to run the family business, Ince's jewellers. His sea interest however never waned.
In scouting he was to achieve the highest honours having become a warranted scoutmaster with the 29th Sea Scouts in 1949. He became a warranted district scoutmaster in 1958 and was awarded the Medal of Merit by the Chief Scout in 1967, becoming assistant district commissioner the same year. He was given a bar to this medal in 1974 and became warranted Group Scout Leader to the 19th in 1975 until he relinquished this post in1985. Needless to say he has a string of qualifications connected with St John's Ambulance, scouting and maritime activities in general.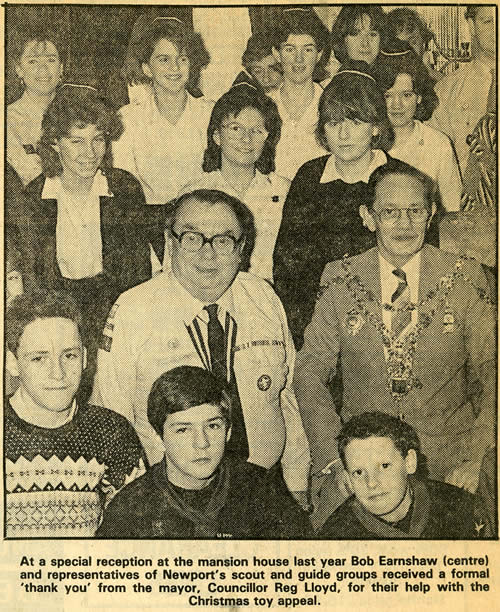 He spoke highly of his service with Newport Harbour Commission and the work connected with the Bristol Channel approaches in which Bob played his part in maintaining navigational aids in these tricky waters. He is chairman of Gwent County Scouts Water Activities Committee and was chairman of the Youth Leaders Conference and has held most top jobs in the scouting movement.
He has a big involvement in the Newport Heidenheim Twinning Association since its inception. He regards helping-out at the Mission to Seamen as comparatively easy compared with the intense organisation of running camps, provisioning the Jessie West for her annual cruise, or putting the finer touches to the Toy Fund.
All in all, Bob Earnshaw BEM has enjoyed his interests and reflects upon a busy life in the town which has brought him many friends and acquaintances.
'I'm not old fashioned, and like modern things, but looking back on the last forty years or so of the town, there is still a very long way to go. There is no way I could have carried-out any of my activities without massive support from very many people,' he said.