Fateful Flight To Capture
The story of Jim Everson from Rogerstone an airman in the war who was taken prisoner.
By Jim Dyer
First published in the Western Mail 1988
© Jim Dyer 2012
Jim Everson's command of the Welsh language was of little use when on a bitterly cold evening in November 1940 his Whitley aircraft developed engine trouble over the North Sea and was forced to crash-land on the island of Juist in the Fresian group.
'Welcome to Germany gentlemen. For you the war is over,' said a gruff Luftwaffe officer. As the five uninjured flyers cowered behind a sand-dune, they realised that indeed they had been captured.

Above: Air Gunner Jim Everson.
Below: Jim Everson working on his POW records.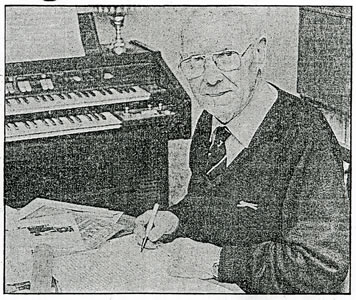 Today at 70 years of age (1988), Machen born Jim Everson is a lively man with a thirst for life and a sense of humour to match. A former headmaster at Rogerstone, his interests are multitude – Gwent Aircrew Association, Caerleon PROBUS, Chairman, Graig Operatic Society and an accomplished organist and after-dinner speaker.
He has written detailed histories of Rogerstone and Machen and together with wife Hilda he is enjoying a busy retirement.
Dangerous Air Sorties
Looking back to that fateful day in 1940 he recalls, 'If we had come down in the freezing sea we would have perished. It took a long time for it to sink-in that we were prisoners of war. I never thought I would be confined for four years in a foreign land.'
It was in 1939 he interrupted his teacher's training to become an air gunner and radio operator with the RAF training at Yatesbury and Stormy Down, Porthcawl. He had a close-shave when in August 1940, three German JU88's bombed the camp causing damage to buildings and equipment and killing two and injuring five airmen.
950053 Everson J E was posted to an operational training unit at Kinloss, Scotland, carrying-out low-level, simulated attacks on the aluminium works at Fort William, before joining 78 Bomber Squadron (4 Group) in 1940 at Dishforth, Yorkshire. Here the station master was Wing Commander 'Willie' Tate from Abercynon, famous for his part in bombing the German battleship Tirpitz, at Wilhelmshaven.
Jim's operational career was brief but hectic and he participated in bombing missions to Geisenkirchen, Ruhrland, Biordeaux, Le Harve and Essen. He never reached Politz.
Prisoner of War
He was interned in four POW camps – including Dulag Luft, an interrogation centre at Obereuseln (now Frankfurt), Stalag Luft 1 at Barth Vogelsang in Pommerania which was a POW camp for Air Force members, Stalag Luft Iii at Sagan, and Luft 1 again. He participated in a number of escape attempts, mainly by providing escape material. At Luft 1 he took part in the digging of two tunnels, working with his pal from Mountain Ash, Owen George, and others.
Jim was engaged in extremely dangerous work as he was responsible for sending coded messages back home. This was a worrying job as detection meant the firing squad. He did suffer from ill-health as a result and owing to his work, escape attempts were not encouraged.
He was familiar with the camp's locality and in 1941 he feigned stomach trouble so successfully was taken to nearby Strahsund Military Hospital and was able to observe the characteristics of the surrounding countryside. 'I was able to draw a map and also pinched a train timetable giving the route to Sweden. This was later used for a home run.'
He acquired equipment for use by intending escapers and in 1943 was helping to send coded messages to the UK concerning targets and troops. The radio receiver was broken up and hidden in a piano accordion, a model ship, model aeroplane and portable gramophone. The earphones were kept in a dried milk tin.
At the request of the senior British Officer, along with Sqd. Ldr. Robertson and WO Drummond, Jim became liaison officer to the American airmen's compound at Stalag Luft 1, to obtain information of the effect of the daytime bombing of targets. This information was collated, put into codes, and then sent in letters which were diverted to RAF Intelligence. At one time they were getting information back about the secret V1 rocket installations, thanks to the bragging of an arrogant young German guard.
Musical Mischief
They got up to all sorts of mischief causing the Germans to chase around. The famous Douglas Bader was at the camp showing determined resistance.
They played plenty of rugby matches, 'Wales always won. We were a vicious lot and even the Aussies shied away.'
Another time the Red Cross sent 60 musical recorders to the camp which they used at night to send coded messages from hut to hut. The Germans would rush in and the music would stop only to start again in another hut.
Jim Everson was promoted to warrant officer in May 1943, while still a POW. On 3rd May 1945 they heard heavy artillery and machine gun fire. At 9pm there was a loud shout and 2,000 POW's danced one huge conga around the compound. The Russians had arrived.
He was flown back to Britain in a Flying Fortress and had a birds-eye view of the devastated French villages. It was then it struck him that war was a terrible thing.
Later he was commissioned and served as an Intelligence Officer attached to the 3614 Fighter Control Unit (Royal Auxiliary Air Force)
Jim Dyer – 2nd January 2012
NOTE
First published in Western Mail on12th March 1988