Trading Standards?
By Mike Buckingham and Richard Frame
First published 1988
Butcher, baker and candlestick maker... they are all in St Woolos and more besides. Even more so than today, it was important in the last century to let people know your social status (if you had any).
One way of doing this, clearly, was to have a grand memorial and there are such examples occupied by the industrial and commercial barons of the town.
But the small businessmen also felt their share of respectability was worth advertising, thus we see ropemakers, anchormakers, chainmakers, horsedealers and vets.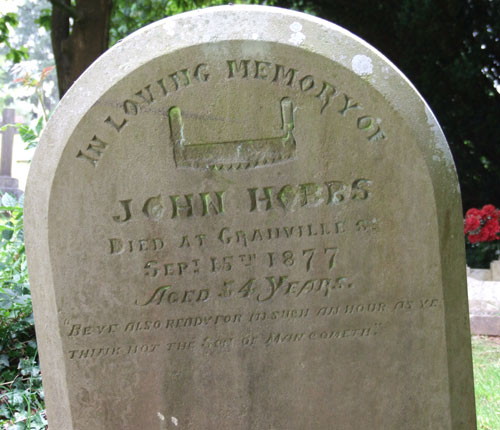 In loving memory of John Hobbs. Died at Granville Street September 15th 1877.
Location:
Being a publican was obviously felt to be a worthy occupation because there are several buried within a few yards of one another. Many of the pubs no longer exist so the words on the gravestone provide us with a historical record.
Because they wanted something a little out of the ordinary such townspeople would set the stonemason a task to test his skills resulting in headstones of some originality. Here you will see a military motif, rifles of swords, and there a fireman with his helmet cut in sharp to relief with crossed axes behind.
Public servants were also entitled their share of respect and their graves show it. Policemen have the town's coat-of-arms carved onto their stones and postmasters, railwaymen, magistrates, ministers and even a customs officer remind us of their callings.