The Sad Story Of Sporting Albert Hopton
By Mike Buckingham and Richard Frame
First published 1988
In Newport as in other parts of South Wales rugby union is not so much of a game, more a way of life or, in the case of the unfortunate Albert Hopton, a way of death.
Even by the standards of a normal Newport versus Cwmbran fixture the game in the first week of October, 1889 was physical, not to say an out and out roughhouse.
Twenty-year-old Albert who lived at 3, Carlisle Place, Newport and worked in the puddling furnaces at the Dos ironworks in the town had taken to the field in the colours of the Newport Blue Stars and can be assumed to have played a vigorous part in what seems to have a referee's nightmare.
Albert was chasing a loose ball when a cry of outrage went up from the Newport supporters. In doing so he had been kicked hard in the stomach by a member of the Cwmbran Stars and left rolling in agony on the pitch.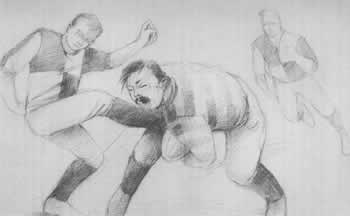 drawing by David Pow
A measure of the roughness of the game is that the fouled player was allowed to lay there for some moments while the play continued, but after a while it became apparent that he was seriously hurt. The game was stopped, and according to the Star of Gwent for October 4, "brandy was administered externally and internally." Although in great pain Albert Hopton was still conscious as a cab was called to take him to hospital.
The death of a young man is always sad but in this case it was rendered even more tragic by an apparent mis-hearing on the part of the nurse.
Perhaps his voice had been distorted by the intense pain, but the nurse understood the distressed young Hopton to have said that anybody should be allowed to see him except for his parents. In fact he had said the opposite, which was that nobody should be allowed to see him except his parents.
Two days after the ill-fated game Hopton died, his grieving parents unable to share his last moments.
At the inquest the coroner recorded that Hopton had been accidentally killed on the football field. It was never discovered who had delivered what turned out to be the fatal blow.
In fact Albert Hopton is not the only person to have been injured on the field of play who subsequently died and was buried at St Woolos cemetery.
There is still to be a clearly seen stone erected to the memory of William Shute, a youngster who attended the Redland Grove College in Bristol and who suffered a similar fate to young Hopton some eight years later.