Untimely Death Of A Transport Pioneer
By Mike Buckingham and Richard Frame
First published 1988
Horses - and one horse in particular - feature in circumstances surrounding the death of George Masters, wine and spirit merchant of Newport and the man credited with first bringing public transport to the town.
Under the rather lugubrious headline "A Melancholy and Fatal Accident" the Monmouthshire Merlin of September 26, 1857 chronicles the demise of Mr Masters thus: "Mr Masters was driving homewards from Caerleon in a gig drawn by a young horse which upon nearing the turnpike dashed forward and crashed the gig into a gate."
"Mr Masters was thrown from the seat consequently suffering severe concussion to the head and a broken collar bone."

drawing by David Pow
"On reaching home he undressed himself and went to bed without calling for medical assistance. The following morning Mrs Masters found him in a fit and immediately called Dr Woollett but nothing could be done for Mr Masters who died on Wednesday evening."
A dozen years before his death Mr Masters, at that time in his early thirties, hit upon the bright idea of charging for rides on his horsedrawn transport which plied between his wines and spirits vaults at 2 Baneswell Road and the Old Town Dock. So popular was the service that in 1845 he introduced a horse bus on the same route, ferrying passengers at one penny a ride. It was an idea, however, which was ahead of its time.
Within a year the enterprising Mr Masters called a halt to his service which was literally getting bogged down in the port's appalling roads.
The sad story does, however, throw a sidelight on the burgeoning commerce of Newport at this time. Coal and iron being produced in the hinterland was shipped out in increasing quantities following the construction of a canal almost to the dock head. Merchantmen from all parts of the globe unshipped at the prosperous port and for the better-off at least, the booming economy afforded plenty of money to buy such potable wares as Mr Masters had to offer.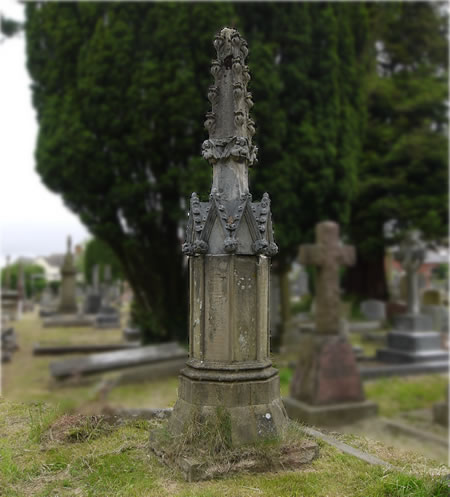 George Masters' grave
Location: CON A75
Mr Masters' grave is marked by a once-imposing memorial which is now in an advance state of disrepair; the inscription all but illegible and about to fall away from the rest of the stone.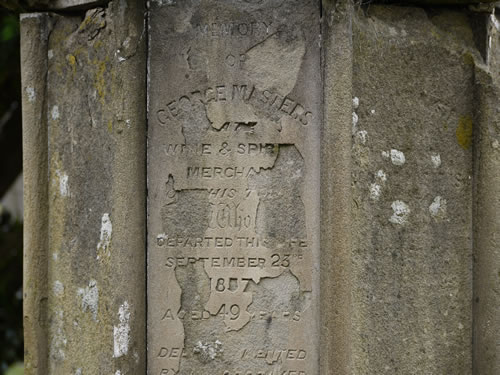 The inscription all but illegible and about to fall away from the rest of the stone.
In a couple of years' time nobody may ever know that the ten foot tall column marks the final resting place of the man who first brought public transport to the town.