The V.C. The Army Almost Forgot
By Mike Buckingham and Richard Frame
First published 1988
In November, 1985 a solitary bugler played the Last Post over the newly erected headstone at the grave of Colour Sergeant John Byrne, VC, DCM, serial number 2832 of the 68th Light Infantry, later to become the Durham Light Infantry.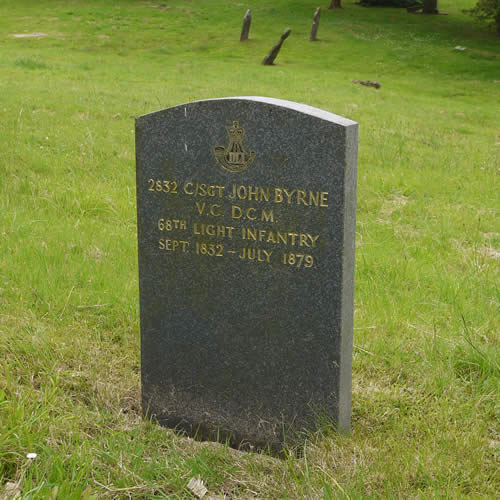 John Byrne, 2832 C/SGT, VC DCM, 68th Light Infantry.
September 1832 - July 1878. Location: RC F4.
Byrne was born in Kilkenny, now in the Irish Republic in 1832 and at the age of 18 enlisted in the British Army at Coventry, where he had gone to find work.
This wild, troublesome Irishman who did most of his peacetime soldiering in the cells was the first from his regiment to win the Victoria Cross, the nation's highest award for valour.
Byrne's introduction to the Army was not auspicious. Within his first year and a half of service he had done two stints in the glasshouse.
But the following eighteen months were to compensate for this. No peccadilloes in barracks can ever overshadow the fact that this brawling, brave man lived up to the very highest standards of his regiment.
At the Battle of Inkerman on November 5, 1854 during the Crimean campaign the regiment had been ordered to retire under withering fire. Seeing a comrade laying wounded and at risk of his own life Byrne ran back to claim the man, exposing himself to extreme danger.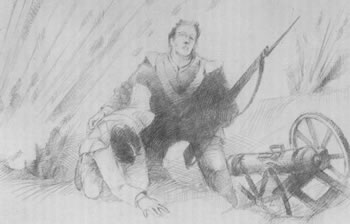 drawing by David Pow
And that was not to be all.
Five months later on the wall of Sebastopol he fought hand to hand with Russian infantrymen thus preventing a breach of the British defences. His decoration for these two acts of valour followed at Corfu by Major General Sir George Buller, on July 22, 1857.
Other less volatile men granted this sort of honour might have settled down and made the Army a career but Byrne languished in the ranks. Although he was made a corporal in 1861 it was not until 1866 his third stripe went up.
Three years after making sergeant and presumably tired of the slow promotion he took a discharge but within days enlisted in the Queen's County Militia from which he was immediately transferred back to the 68th, his original regiment, and again at the rank of sergeant.
His final farewell to the British Army came on May 14th, 1872 after 21 years and 22 days of service. Until the spectacular events of 1879 little distinguishes Byrne's civilian career. But on July 10th of that year and for some reason we will never know, the veteran soldier pushed himself beyond the edge.
The Monmouthshire Merlin of July 11, 1879 brings to us in stark prose the type of tradegy which although now common and almost unremarked was then a scandal.
It is headlined: "Shooting of a man at Maindee. Suicide of assailant" and reads "A party of men being engaged in the new ordnance survey had met on the corner of Victoria Avenue at 8 o'clock in the morning, ready to proceed to Christchurch, one of their party a John Byrne was missing. However after a ten minute wait he turned up, walking up to them he took his "traps" from his shoulder (as one of the men put it) and without saying a word drew from his pocket a revolver which he pointed at a young man named Watts and fired the contents, entering Watts's right shoulder.
"Byrne then turned the revolver round and for a second or so held it close to his own ear, and whether he pulled the trigger or not is uncertain, but he replaced the revolver in his pocket, smiled at his companions and walked away, no one attempting to take hold of him or take the weapon from him. It all occurred so suddenly, it was said that there was no time to reflect what was to be done. Not seriously hurt having only a flesh wound Watts was able to walk to his home at Barnards Town. The Police were summoned and Police Sergeant Grath and Pc. Conway arrived and went to 7 Crown Street where a crowd of women and children had gathered. The officers went to the door and were confronted by Bryne with the gun in his hand. He told them everything would be alright and that he would come out at 3 o'clock, but not until then.
Inspector Sheppard arrived at the scene at 2 o'clock with two officers and it was decided to enter the house. No sooner had they done so than a shot was heard and the lifeless body of Byrne was found in his room where he had shot himself in the head." It was reported later that young Watts had insulted the Victoria Cross holder whilst out on the town drinking the night before. At the subsequent inquest a verdict of suicide whilst of unsound mind was recorded.
What a tragic end for a very fine field soldier. Some might say his last act took more courage than any before it. Others, that it was the final guesture-of a sticken man. A man is trained for the task that might win him the Victoria Cross. He is not trained to cope with what follows.